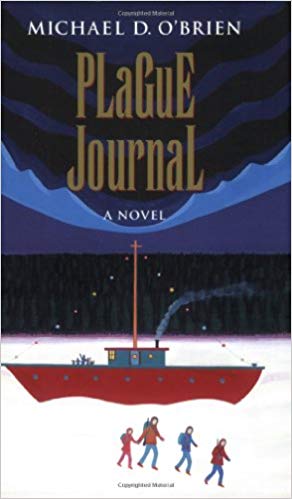 Michael O'Brien is a Roman Catholic writer and thought provoking, sobering and perceptive.  He does not press anything Roman Catholic and his novels have a rich content if not necessarily a racy story line.  This particular story revolves around a conservative small town newspaper editor living in a rural town in upstate British Columbia, Canada.  The events take place sometime in the late twentieth century and follow on from the first novel in "the Children of the last Days" trilogy.  That first one is entitled Strangers and Sojourners.  Possibly, those interested in reading these far better than the "Left Behind" series of books, would be wise to read Father Elijah first and then get into the trilogy.
Plague Journal is the shortest of the series and takes a subtle but clear look at the left leaning liberal establishment that has taken control of the Canada in which the experiences of Nathaniel Delaney and his children are worked out.  Actually, in so many ways O'Brien is harrowingly close to the mark as to what is really happening, or at least intended in the minds of many in high places of the world today.  The fashions and fads of present day sociology and psychology as well as some pretty horrible paragraphs about certain medical procedures are shown up for what they really are and the resulting cruel society they produce and against this background 'the children of the last days' must live their lives.
 These 'children' are seeing the true basis of human life as God intended (and God is scarcely mentioned), the challenges they face, the discovery of what really matters emerges in Nathaniel Delaney's plague journal.  We need to read books that expose, in a serious, sometimes winsome and hopeful way, what is ticking in the world of our time.  If thick books scare you, start with this one, it is shorter than the others in the series and hopefully will spark you to get the others and read with profit.